Mass                       1st and 3rd Sundays of the month    3:00 pm

Eucharistic           2nd, 4th, and 5th Sundays                    9:00 am 
Eucharistic            1st Friday of the month                         7:00 pm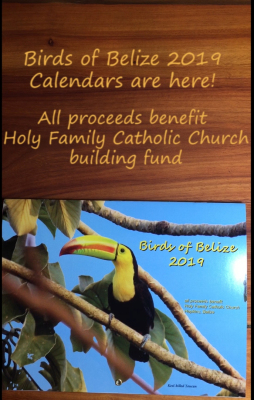 These calendars are a part of our church new building fundraising effort with 100% of the proceeds going to the fund. 

They open to 11"x17" with a different bird every month.  The monthly format shows Catholic holy days and holidays for Belize, Britain, Canada and the U.S.

They can be purchased from church members or at the Garimaya gift shop at the south end of Hopkins Village for $30 BZD.  Thank them for supporting our sales again this year!

Holy Family Catholic Church is a Catholic faith community serving Hopkins Village, Belize and the surrounding area.  We are a part of Sacred Heart Parish in Dangriga. 

We are located on the beach side of the main village road in Hopkins, south of the Hopkins road junction, and directly across from Holy Family Roman Catholic School.

Come and worship with us!

Thanks for your continued support for the new church buidling!We are presently raising money for the foundation and are nearly there!  Help us cross the finish line!   Donations can be made in the box in the rear of church.

Feast of Our Lady of Guadalupe Holy Rosary

                                                                         December 12th,  8:00 AM

Christmas Eve Mass                           December 24th,  8:00 PM

Feast of the Holy Family Mass     December 30th,  3:00 PM

New Year's Eve Mass                         December 31st,  8:00 PM